Bee Propolis Capsules - 500mg
Protect your body with nature's best immune system booster. Our certified Propolis Capsules contain rich flavonoid content such as Chrysin, Pinocembrin, Galangin and Quercetin.
23
people are viewing this right now
The easiest way to make sure you receive the protection and benefits of propolis is to take it on a daily basis.
Filled with numerous flavonoids, Propolis has been found to posses many important properties, including
 - antibacterial
 - antiviral
 - antioxidant
 - antitumor
 - anti-inflammatory
In fact, recent research found Propolis enhances the effects of prescribed antibiotics, protected against negative effects of vaccines and sped up the healing of bone fractures. It's even been found to increase the success of chemotherapy! 
(contains 90, 500mg capsules)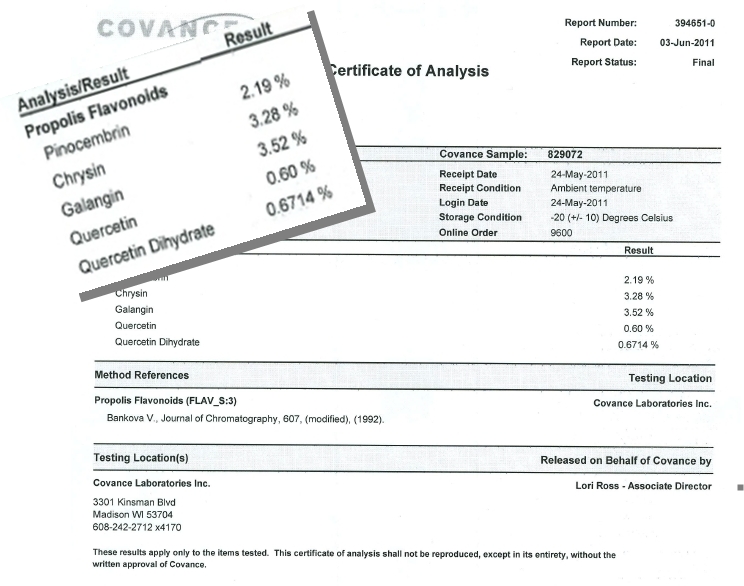 Our propolis is certified to contain active flavonoids, documented for having anti-fungal, antiviral and antitumor properties, thanks to such flavonoids as Pinocembrin, Galangin, Chrysin and Quercetin.
Listen to our Podcast about and what it can do for your children and you.
Click here to find the latest research on our blog.
Click here for copies of research documents written by Stefan Bogdanov,PhD from the Swiss Bee Research Center.
Ingredients:
Bee Propolis 250mg (equivalent to 500mg raw propolis);  other ingredients: Carob powder, Maltodextrin; Capsule: Vegetable Cellulose (HPMC)